Mr Vipul Patel

Consultant Orthopaedic and Trauma Surgeon

Mr Vipul Patel is a Consultant Orthopaedic and Trauma Surgeon at Epsom and St Helier University Hospitals NHS Trust, where he was appointed in 2001.
Clinical Practice
Mr Patel offers treatment for almost the entire spectrum of disorders of the shoulder and elbow, using state of the art techniques. He also treats common hand conditions. For common shoulder and elbow conditions Mr Patel endeavors to offer a one-stop clinic - with clinical assessment, ultrasound examination and treatment with injections where appropriate at the first visit. Mr Patel has extensive experience in arthroscopy, shoulder replacement surgery as well as shoulder and elbow trauma.
Referrals
NHS referrals can be made via 'Choose and Book' or letter of referral to St Helier Hospital or the South West London Elective Orthopaedic Centre (SWLEOC).
Private patients should be referred to either Spire St Anthony's Hospital, Ashtead Hospital Spire Gatwick Park Hospital or Fortius Clinic Wimbledon.

Qualifications
MBBS, Gujarat University, 1986
MS(Orth), Gujarat University, 1986
FRCS (England), 1991
FRCS (Tr & Orth), 1999
Diploma in Clinical Risk and Claims Management, 2020
Mr Patel completed his higher surgical training in the South West Thames region. It is during this time that he developed an interest in shoulder surgery. He undertook a year in Baltimore on a research fellowship and spent a short stint in New York before taking up a consultant post in Chichester in 1999. He moved back to Greater London in 2001 when he was appointed Consultant at Epsom and St Helier University Hospitals NHS Trust. He was instrumental in introducing shoulder surgery at SWLEOC.

Memberships and fellowships
Royal College of Surgeons of England
British Orthopaedic Association (BOA)
British Elbow and Shoulder Society (BESS)
British Trauma Society (BTS)
AO Trauma
American Academy of Orthopaedic Surgeons (AAOS)
Teaching and Training
Mr Patel enjoys training and currently supervises a Senior clinical fellow, a specialist registrar as well as a foundation trainee. Mr Patel has set up a fellowship in Shoulder and Upper limb surgery affiliated to the BOA Clinical leaders' programme. Mr Patel relishes opportunities to teach and over the years has been on the faculty of AO trauma courses on fracture management, ATLS, Upper limb trauma and Advanced shoulder arthroplasty courses. Mr Patel runs an annual cadaveric course on Reverse shoulder arthroplasty.

Research
Mr Patel has published extensively and presented his work at national and international meetings. His areas of interest include the Frozen shoulder, Rotator cuff repair and Resurfacing total shoulder arthroplasty. A list of his publications can be found here.
Wider responsibilities
Medical Director, South West London Elective Orthopaedic Centre, Jan 2020 onwards
Joint Clinical Lead, South West London Orthopaedics, Trauma and MSK network, May 2020 onwards
Surgeon Member, Surgical Performance Committee, National Joint Registry, June 2019 onwards
Directorate Clinical Quality Lead for Surgery, Epsom & St Helier April 2016 – 2019
Regional Clinical Co-ordinator, National Joint Registry, Jan 2016 – Jan 2020
Member, BOA Clinical Commissioning Guidance Development Group – 2012 - 2014
Clinical Lead for Trauma and Orthopaedics, Epsom & St Helier, 2008 - 2012
Reviewer for Shoulder and Elbow journal and Bone and Joint Journal
Mr Patel has been awarded the iWantGreatCare certificate of excellence.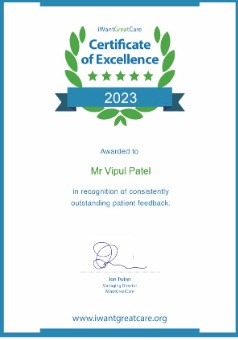 If you wish to leave feedback for Mr Patel please click here.